LNL Anodizing specializes in Hand-Operated Electroplating & Anodizing Services in Southern California Los Angeles County area.
For over 36 years, our production and support personnel has provided high-quality, precision metal finishing services to customers' that include company's who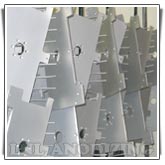 expect the highest standards in their metal finishing needs.
Our personal hand-processing permits intricate cleaning and special operations during processing including: insertion of precision or rotating parts, multiple coloring and other variations in processes not afforded to an automated, fixed production line.
Combining modern, high-tech quality control procedures to ensure all processes meet the highest level of quality possible with fast turn around.